hunter valley with cafe lunch

Boutique Wine Tours

with cafe lunch
Join us for the best Hunter Valley wine-tasting tour, departing Sydney daily for the fabulous wineries & views of the Hunter.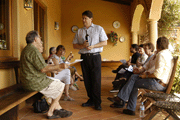 We believe our Hunter Valley wine tours offer the best combination of luxury, personalised service, value for money and fun! See below for some of the reasons why, or take a look at what a Typical Day on our Hunter Valley wine tours is like. But remember - we pride ourselves on being flexible, personalising our tour daily.
Flexible, customised itinerary

We don't have a set itinerary, customising our Hunter Valley wine tour each day to suit you and your fellow travellers. With over 130 wineries in the Hunter Valley we guarantee a great, personalised experience every day. Let our guide recommend the wineries, or suggest your own favourites. You can also include cheese, olive, chocolate or fudge tastings, visit the Hunter Valley Gardens, or browse the shops & galleries.
Small group sizes
With a maximum of just 14 passengers on our Hunter Valley wine tours, you'll enjoy a personalised day tailored to suit. Travel with friends, or by yourself and make friends along the way. If you're travelling with a group, why not consider a Private Charter?.
Great guides - professional, friendly and fun

Our excellent guides are your key to a great wine tour, and a great day. More than just drivers, they are knowledgeable and passionate about Australia, the Hunter Valley and its wines. Fun, courteous, professional and enthusiastic, they help set us apart from the rest.
Luxury Mercedes vehicles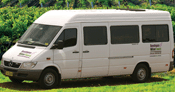 Ours are the best, most comfortable & most modern vehicles in the Hunter. With a maximum of just 14 passengers, our Mercedes mini-buses feature extra legroom, reclining seats, seatbelts, headrests, panoramic windows, A/C, onboard TV/DVD & fridge.
Great value
At just $110 per person for our standard Hunter Valley wine tour, this is a great value day out of Sydney. For just $125 include a fabulous Cafe Lunch, or upgrade to our Gourmet Lunch option for $160.
Visit the best boutique wineries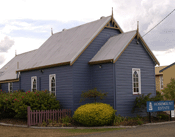 Our Hunter Valley wine tours concentrate on the smaller, boutique wineries where wine-making is a lifelong passion. For you, this means a personalised experience and excellent wines. Avoid the crowds & anonymity of larger wineries and let us show you our favourites, or suggest your own. Larger wineries can be catered for where desired.
Gourmet Lunch or cafe lunch options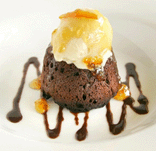 Our Hunter Valley wine tours allow you a range of choices at lunchtime: Do your own thing for lunch, join us for a great Cafe Lunch, or upgrade to our Gourmet Lunch option. Your guide will explain all your options and show you the latest seasonal Gourmet Lunch menu so you can decide on the day.
Complimentary pick-up
Our Hunter Valley wine tours start with a complimentary pick-up from your city hotel, city location, or along the Pacific Highway. It's all part of our friendly, efficient, personalised service.
Behind-the-scenes tour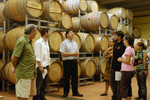 There's only one winery that we visit every day - Iron Gate Estate, where we enjoy a private behind-the-scenes tour. This is a great chance to understand the wine-making process, and to understand Australian and Hunter wines.